This page is no longer available because it is expired or old. This page is no longer editable by our users.

If you feel that adding to it is really necessary, please notify an administrator on their message wall, or leave a message on the talk page.
Click here to redirect to Gifts Clicker Wiki!

Gift Clicker or Gifts Clicker is a game developed by Jamboska. In this game you tap on gifts. And buy snowman using your gifts. It is looks like a Christmas version of the game, but it is just a clicker game with in gifts, levels and or snowmen.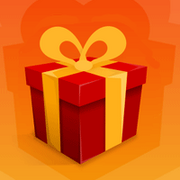 Gameplay
[
]
So, you are on level 1. But, you get much bigger levels in the game by clicking on gifts (presents) and buy snowmen to create them to automate the gifts per second. Some updates improved the game, and it have added more badges in game, the mini game and more. So, what are you waiting for? Get this fun game and get a lot of gifts in the present clicker game!
Trivia
[
]
Gift Clicker is a free game on the Play Store.
Over 9000 points you can get with more gifts and snowmen level and the big gift!
And a new mini game was added on a update that is for Android.